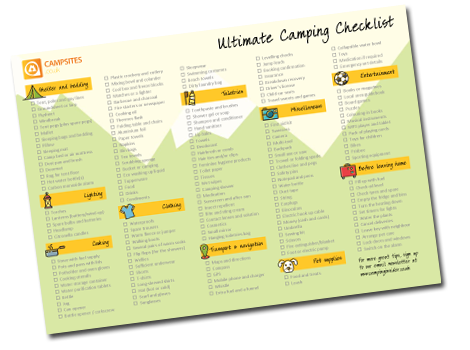 Download the Ultimate Camping Checklist
We list everything you need to remember for the perfect camping trip!
You've spent hours gathering and packing equipment and supplies, travelled a considerable amount distance to reach your destination... and then discovered that you forgot the tent pegs, the tea bags, your cooking stove and several other camping essentials.
Either that or you know from experience that your VW Golf's boot space (passenger footwell, rear parcel shelf, occupant's laps, etc.) cannot possibly contain everything your family would like to take with you!
Whether you're a first-timer or an experienced camper, putting together a camping kit list is one of the best ways you can ensure a smooth and enjoyable camping trip.
A checklist not only helps you remember what to take, but (for the truly organised) is also a handy reminder for equipment and supplies that need to be checked for good working order before you set off.
Of course, your own camping checklist will vary depending on who you travel with, where you're going, the time of year, length of trip, campsite facilities, weather, mode of transport and individual preferences.
So what you need is the Ultimate Camping Checklist. Something you can use to rule things in or out of your own personal checklist.
And that's exactly what we've got for you here. An easy-to-print PDF file with everything you could possibly need.
Remember though, it's not a contest! (or not for all of us at least)