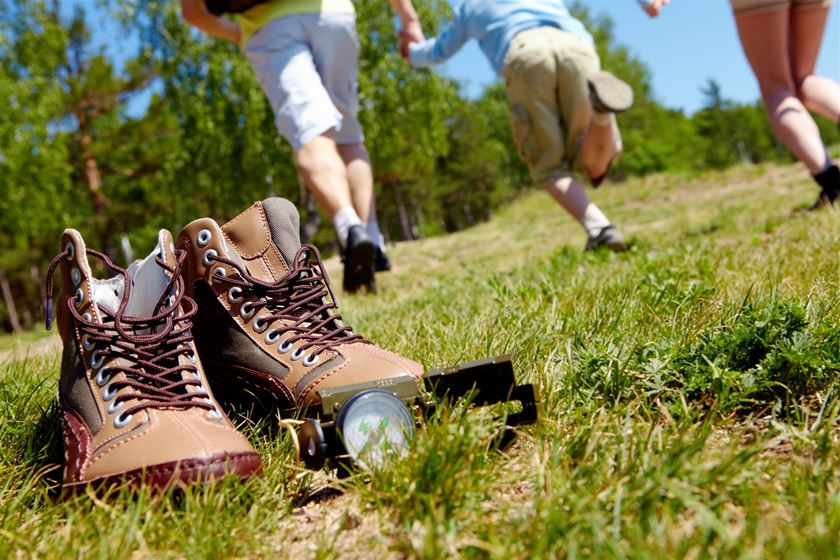 Equipment and gear: what to take camping
There is such a huge range of camping equipment and gear out there that it is easy to get overwhelmed, but in reality you don't need much to go camping and you can bring most of what you need from home.
When you are just trying out camping you don't need to buy a ton of stuff or bring too much with you, camping is a progressive learning experience and it takes a bit of time to figure out what you are happy to leave behind and what you can't bear to live without.
You should consider borrowing what you don't have from friends or family - once you have a trip or two under your belt you will have a better idea of the kind of equipment you would like to buy for yourself. In this section we cover everything you need to get yourself set up for your first camping trip.
(And we've put together this handy what to take camping kit list download too!)
Start with the Basics
The basic camping set up is actually very simple. You need to think about the following things:
Shelter - this will be your tent
Sleeping - you need something to sleep on and something to sleep in
Eating - unless you are planning to eat all your meals out, you will need to bring equipment for preparing, cooking and eating food
Relaxing - you will need to create a comfortable place to relax
Once you have the basics sorted, there are lots of useful extras that will make your life easier. You can bring as little or as much with you camping as you like or have room for, but you don't actually need that much. What you bring with you will also be constrained by your method of transport and the size of your tent. Everything must fit!
Tent
The first thing you need is a tent. The size of your tent will depend on how many people will be sleeping in it and how much room you have to transport it. Your group doesn't all have to sleep in the same tent, you can also consider bringing a couple of smaller tents.
For your first trip you might like to borrow a tent from a friend. This way you can find out what you like and don't like before spending any money. But if not, tents are not expensive these days and you can get a good basic tent for under £100. If weight isn't a concern then the more room the better, especially if the weather turns bad. There are some huge tents on the market, but be aware that some of these might end up being too big for normal camping pitches and you might have trouble with space.
There are many different types of tent, but all of them will keep you dry and sheltered. Our guide on how to choose a tent will be added soon.
Don't forget, whether you buy a tent or borrow one, you should always pitch your tent for the first time at home.
What you need for sleeping
What you bring to sleep on and under is very important so don't scrimp on this. Nothing beats a comfortable cosy camping set up, and nothing ruins a holiday faster than a bad night's sleep.
For your first trip you can just bring bedding from home if you don't want to invest in a sleeping bag. Duvets and blankets will do just fine if you have the space for them. Don't forget to bring pillows - this is a classic new camper mistake.
Sleeping bags come in varying sizes, materials and thicknesses to suit the type of trip you are taking and the temperatures of the season you are camping in. Our guide on choosing a sleeping bag will be added soon.
In addition to your bedding, you also need to think about what you will sleep on. Self-inflating camping mats are great and you can pick them up very cheaply. Airbeds are even more comfortable and are great for insulation, although they are more hassle. The old foam camping mats did a good job for decades and will also be perfectly adequate.
The key to keeping warm is to get plenty of insulation between you and the ground, and that means layering up with blankets above and below your mat or airbed. For your first trip, you can make a very good bed out of layers of blankets, duvets and cushions alone if you can't borrow or buy a camping mat.
It always a good idea to bring lots of extra blankets, there is nothing worse than being cold at night. You can also use extra blankets and bedding to create areas for relaxing outside your tent.
Cooking, eating and washing up
Cooking outdoors is really good fun and one of the best parts of camping. There is nothing more rewarding than a camping meal! You need to bring equipment for preparing your food, something to cook on, pans and utensils to cook with and plates and utensils to eat with.
The equipment will vary according to the types of meals you want to cook and how many people will be eating. You can get away with being fairly minimal if space is at a premium. At minimum you need something to boil water in, it need not be a kettle, a saucepan will do.
Do not make the mistake of planning over-elaborate meals - keep it simple. You also don't need to bring all your food with you, there will be local supermarkets and shops for stocking up on supplies and your campsite might even have a small shop if you forget anything. If you're feeling adventurous, check out these great ideas for camping recipes on Pinterest.
If you don't want to cook, you will have no trouble eating out at cafes, pubs and restaurants and buying food locally. Even if you plan to eat all of your meals out, you should at least bring something you can brew up on. Never underestimate the power of a hot drink when camping.
If your campsite allows fires, you can cook some delicious meals on open fires and firepits. BBQs are often allowed on campsites. You should bring a camping stove anyway, you don't want to have to rely on starting a fire if the weather turns bad.
Remember that you should cook away from your tent in a well-ventilated area. Never bring a BBQ or camping stove into your tent or awning, carbon monoxide poisoning is a real risk.
You also need to think about food storage. To keep your food dry and safe, and to prevent insects and other unwanted guests, you need to bring proper containers for storing your food. Zip lock bags will come in very hand too. Keeping food cool is another consideration when the weather is warm. Cool boxes are really useful and store your food very securely.
Finally, don't forget about washing up and cleaning! There will probably be facilities for washing up on your campsite but you will need to bring your own washing up liquid, sponges and tea towels. A washing up bowl has endless uses and will come in very handy. A dust pan and brush is great for getting dust and sand off your tarpaulins and out of your tent. And good strong rubbish bags are essential.
Relaxing on your campsite
New campers often overlook equipment and gear for sitting and relaxing. It's just as simple as bringing a tarpaulin to put on the ground, and then you can create any kind of sitting and chilling out area you like using cushions and blankets. It's not the best idea to double up and use your bedding out of the tent: it can easily get damp or wet and then you really will have a problem. Bring extra blankets and cushions for this purpose.
Chairs will be a welcome addition to your campsite, and a chair per person is even better. A table will make eating and preparing food more pleasurable. You can purchase fold away table and chairs pretty cheaply that pack down well.
When packing, think about what you will be doing on your trip, how you will want to spend time and what activities you want to do (games, sport, books etc.). Will you be chilling at the campsite a lot? Or will you be out and about returning only to sleep?
Lighting your camp
Lighting is important when camping. Your campsite is unlikely to have any lighting except in the toilet and shower blocks, and it can get very dark in the countryside at night.
There are lots of different types of lanterns you can buy for lighting your camping area. There are also many different types of torches on the market. Everyone in your party should have at least one small torch each for getting around the campsite and finding things in their tent. It's a good idea to have at least one lantern per tent for convenience.
Gadgets
Think about the gadgets you want to bring with you and what you want to leave behind. If you are bringing your phone, laptop and so on, don't forget your chargers. You can buy portable power chargers for your gadgets - some of them are solar powered which comes in useful when camping.
There are all kinds of camping specific gadgets out there too, and you can really take it to the next level if you want to. But also don't forget to bring your trusty pen knife or a good multi tool and a washing line or good length of string.
If you go for a pitch with an electric hook-up (EHU) then you can really go to town with what you bring with you: fridge, lights, etc.
Read our beginner's guide to electric hook ups for more information, and find a campsite that offers hook-ups.
Clothing and personal care
There is no camping specific clothing that you will need to buy, just make sure you have good wet weather gear for if it rains. Bring extra jumpers, socks and anything you might need to keep you warm at night. Even in the summer it can get very cold in a tent when the sun goes down. You will never regret bringing extra clothing, but you will definitely regret not bringing enough.
Other than that, pack plenty of clothing in line with the time of year and the activities you will be doing. You must always have a dry change of clothes in case you get wet.
You need to bring everything with you for washing yourself and lots of toilet roll. If you are camping for more than a few days you might want to think about bringing something to wash your clothes with too - your clothes can get dirty pretty quickly when you are spending a lot of time outdoors.
Where to get your gear
First time campers should probably borrow or buy cheap gear, there is no point spending a huge amount of money on expensive equipment before you know what type of camping you enjoy. If you do buy, go cheap. The stuff you use in the beginning you will probably want to change as your learn more about what you enjoy and what suits your requirements.
You can research forums and look at reviews to get good advice on camping equipment. There are lots of good camping outlets online, or you can pop into your local camping shop if you would rather get some face-to-face advice. You can also get great second hand gear, try looking on Gumtree or Ebay, and you can pick up some real bargains at car boot sales.
Start with what you need
Making a list of things to take with you is a good idea so you don't forget anything. And don't forget to download our camping checklist to get an idea of the essentials.
Start with the basic equipment and camping essentials and then you can fill any extra space with your luxury items. You really don't need as much as you think. The first trip will take a bit of planning because it is all so new, but you will soon learn what you need and what you don't need.