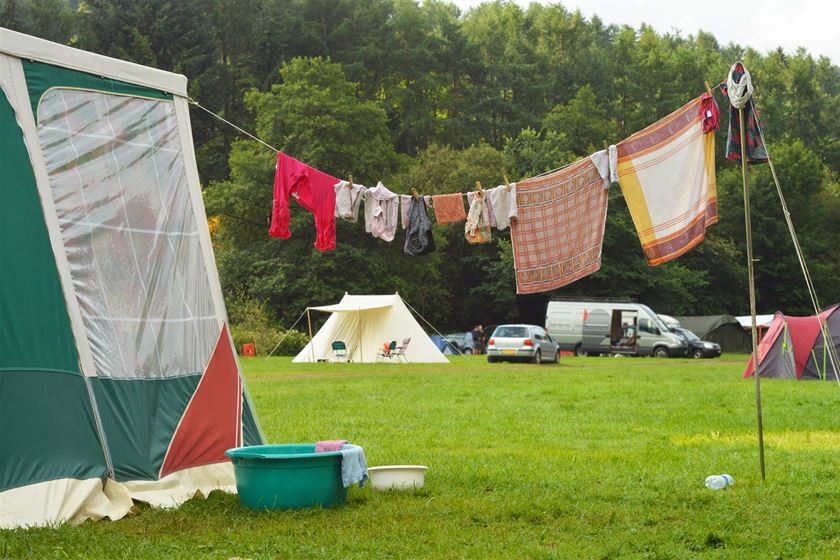 Choosing a pitch and setting up camp
Knowing how to set up a campsite is vital if you want to make the most of your camping trip.
Choosing a good pitch will ensure that you're comfortable, not exposed to the elements and have enough space. A good campsite layout will help your holiday run smoothly and make hanging out at your campsite a pleasure. And a camping trip can be great fun even in bad weather, provided your tent is securely pitched and well-positioned.
Choosing the best pitch
There are a number of things to consider when choosing a pitch, and inevitably some compromises to make. There is no universal best pitch!
You need to think about the location of the pitch within the campsite in relation to amenities, views and so on - and you need to consider the physical characteristics of the pitch itself.
Depending on the season and how busy your campsite is, you might have a limited choice of pitches. If your campsite has a map online, study it beforehand and scope out the campsite on arrival to get an idea of where everything is and what your options are.
Pitch location
When it comes to choosing the best location for your pitch, there are several things to think about. Your priorities will depend on your choice of campsite and what facilities they offer, but it's worth giving them some thought before setting up.
Bathrooms and amenities - Do you want to be close to the amenities? The benefit of being close is that you don't have far to walk when you want to shower or use the toilet (which can be convenient during the night). However, bathroom areas are busy places in campsites so you'll experience more foot traffic near your camping pitch and you may be kept awake by lights at night.
Facilities - Swimming pools, games rooms, restaurants and bars can be noisy and have a heavy footfall, but if you are planning on spending a lot of time using these facilities it might make sense to camp near them. Play areas for kids are noisy, but if you have small children you might want to be able to keep an eye on them from your tent. If you camp near the campsite entrance there will be cars coming and going, sometimes late at night. Do you want convenience or peace and quiet?
Views and location - Pitches at the edge of the campsite might offer superb uninterrupted sea, lake or river views and being 30 seconds walk from the beach could be fantastic. But these pitches will probably be further from the amenities. You might also want to consider how close you camp to the water's edge, insects congregate around water.
Neighbours - Check out the neighbouring pitches and try to gauge what sort of people and groups are camping nearby. What type of camper are you? If it looks like a family with tons of kids, expect children playing and running around. If it looks like a group of young people, you might get a bit of noise later at night. Try to choose neighbours that fit in with your style of camping so you don't annoy them and they don't annoy you.
Privacy - How much privacy do you want? Consider how overlooked the pitch is, how close it is to your neighbours, how close it is to the road or any footpaths, and whether it offers any privacy. If you have a choice of pitches then opt for one that is out of sight of other campers - privacy can make all the difference to your trip enjoyment and you reduce the risk of getting disturbed at night and likewise disturbing others.
Pitch characteristics
Once you have decided on the area you would like to camp in, and assuming you have a choice of pitches, you then need to consider the physical characteristics of the pitch itself. If the campsite offers you a bad pitch, don't be afraid to ask for a different one.
Flat Ground - As a general rule, you want your pitch to have relatively flat ground to pitch your tent on. Some campers prefer a very slight slope which can make your sleeping position more comfortable and is beneficial for water drainage.
Check water flow - You should choose a spot where rainwater isn't going to flow or gather, so steer clear of depressions in the ground and choose somewhere that is well drained.
Shelter - Check the prevailing wind direction and weather conditions. The best pitches have hedges, bushes, fences, walls and other structures that will protect you from the wind and offer you some privacy. Bear in mind that you might want a bit of breeze if it is hot and this will also help keep insects away. If it is very hot it's a good idea to camp somewhere that will offer shade for your tent. If the area is completely exposed, such as the top of a hill or a ridge, then consider choosing somewhere slightly lower down the hill that offers better protection from the elements.
Trees - Trees can look appealing because they offer shade and shelter. But the grass beneath them is often poor and roots can make the surface very uncomfortable. Trees might also drip sap, attract birds, drip heavily after rainfall and be dangerous in storms.
Size - it is very important to make sure the pitch is big enough for your requirements. Will your tent and car fit easily and still leave room for an eating and recreation area? If you are camping in a group you may want to fit a couple of tents in, is there space to arrange things properly?
Laying out your camp
Once you have chosen (or been given) your pitch, it is now time to plan the layout of your camp. Think about the layout of your house at home and how you will be spending your holiday, most of the things you do at home you will still do at your campsite!
You will need to consider the following:
The best place to pitch your tent (see below) or the best way to arrange multiple tents.
Where to park your car if you have one (cars can be a useful windbreak).
Setting up areas for cooking and preparing food (never cook in your tent).
Setting up areas for eating, relaxing and chilling out. Think about where you can place your table and chairs if you have them, if you will require shade and so on.
Tying up a washing line for drying clothes and towels.
Extra groundsheets and tarpaulins are really useful for defining different areas of your camp. If you are planning to have a fire you need to do this well away from your tent - the same goes for using your cooking equipment.
Pitching your tent
Positioning your tent correctly and pitching it securely is important. Camping can be really cosy and good fun even in bad weather, so long as your tent is providing you with adequate shelter. The weather in the UK can change suddenly, so you might be glad you made the effort!
Where to pitch your tent
Check the wind direction. Look for and take advantage of natural windbreaks - you want your tent to be as sheltered as possible. Never have your door facing the wind, this will cause your tent to balloon each time you open it and make it highly unstable.
If you are on a slight incline, think about your sleeping position in the tent. You will want to sleep with your head uphill and your feet pointing downhill, so your blood doesn't rush to your head. Avoid sleeping parallel with the slope or you will find yourself rolling downhill!
Clearing the area
Before you lay down and peg in your groundsheet, check that there isn't anything on the ground that could damage it, such as stones, branches or tent pegs left behind by previous campers.
Pegging in
Having a mallet is useful when it comes to putting the tent pegs in, especially if the ground is quite hard, but if you don't have one search the area for a good heavy rock or ask to borrow one from another camper.
You should knock the pegs in to the ground at a (30-45 degree) diagonal angle facing away from the direction of tension to stop them being pulled out. Make sure the pegs are inserted all the way into the ground, as this not only makes them much more stable but also stops them being trodden on and tripped over - very painful!
Make sure you peg in every peg loop that is available, starting with the corners to get good tension before pegging in the sides. You want your tent as taut as possible, not slack.
It's a good idea to have at least a few spare pegs as they often get lost, bent or left behind. Bent pegs can be straightened out with a mallet or rock.
You should also peg in all of the guy lines to keep your tent as stable as possible. Guy lines should then be tightened so that they are taut - not super tight and but definitely not slack - they will shrink and loosen somewhat according to whether they are wet or dry and you need to allow for this. Don't skip this bit, guy lines are there for a reason and will be vital if it rains or the wind picks up.
Practice makes perfect
You should definitely know how to pitch your tent before you get to your campsite. If you have a garden that is big enough, it's a good idea to practice setting your tent up until you are familiar with the process. If you don't have a garden or your garden is too small, get the braver members of your party to practice setting up in a local park.
Always read the instructions for setting up your tent first instead of just going for it and hoping for the best. If you don't have instructions then try searching for them online or asking for advice on camping forums. You may even be able to find YouTube videos that demonstrate your tent being pitched!
Preparation is key
It's the old scout motto, but making sure you're prepared for your camping trip is important - and one of the best ways to be prepared is to know how to set up your campsite properly. Thinking about your priorities for pitch location beforehand will really add to the enjoyment of your holiday and choosing a flat camping pitch that is sheltered and well drained will go a long way to facilitating a successful trip!