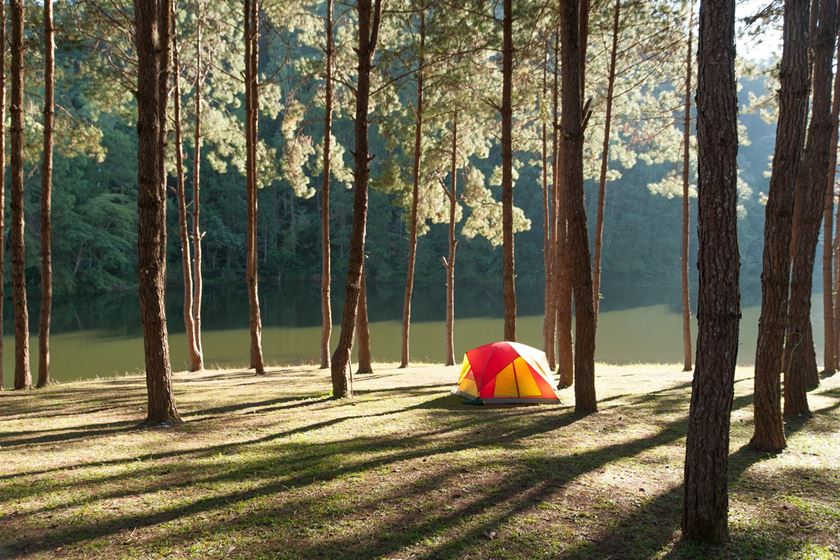 How to choose a campsite
There are so many campsites in the UK that narrowing down where to go can seem a bit overwhelming. In the end, how you choose your campsite should depend on what kind of holiday you want, where you want to go and what you want to do when you get there.
For your first camping trip it's a good idea not to go too far from home, so you can come back easily if you forget something, the weather turns bad, or you just decide you don't like it. (Shock horror!)
Use our campsites near me function to find one in your area.
Below we discuss the important factors in choosing a campsite, how to find and book a campsite that meets your requirements, and what to expect when you get there.
Decide what you want
There are campsites everywhere in the UK, so you can be pretty sure that wherever you want to go there will be a good selection of sites nearby.
There are several different types of campsites, from remote wild campsites to massive holiday parks and everything in between. Think about what sort of campsite appeals to you most.
Smaller campsites will have fewer facilities but can be more chilled out and might offer beautiful or unusual locations. Bigger holiday parks offer a huge range of facilities, activities and entertainment and can be very convenient and fun for families.
For your first trip, choose a campsite with at least basic facilities such as toilets and showers to keep things hassle free.
Some campsites will allow you to camp anywhere you like on a site that is basically just a field. Other campsites have fully defined and serviced pitches with electric hook-ups and all the trimmings. Some campsites will be very casual and not monitor or pay much attention to what you do while you are there. At others there may be strict rules about what you can and can't do and at what times.
The type of campsite you choose will just come down to personal preference. It helps to make a quick check list of the important factors you want to incorporate into your holiday before you start searching for a campsite.
The following things are worth considering:
Location and local area - By the sea, in the woods, in the mountains, on the moors, by a lake: the possibilities are endless. Think about what you would like out of the local area. Do you want a pub in walking distance? Do you want to be near a town, a beach or a river?
Facilities - campsites range from completely basic (a field in a farm with a cold water standpipe and no toilets or showers) to mega holiday parks (with swimming pools, restaurants, games rooms, nightly entertainment, etc.). Think about the facilities you would like at your campsite, this will really help narrow down your choice.
Activities - walking, cycling, swimming, sunbathing, bird watching, fishing, sightseeing, eating out…what do you want to do on your holiday?
Specific requirements - does your camping party have any particular needs? Some campsites don't allow single sex groups, some don't allow dogs. There are family friendly campsites and quiet campsites that don't allow children.
It's a good idea to ask your friends and family for campsite recommendations. You can also ask questions on our Facebook group or check out campsite reviews.
How to find a campsite
Once you have roughly decided what you want out of your campsite, you can search our directory or camping app (Campmate for iOS) for campsites that match your requirements. You can select the facilities, locations and factors you want and then browse through the campsites until you find one you like.
Popular searches include:
Check out the campsite's website where you can see photos of the camping ground and get a feel for what the place is like and how it is set up.
Booking a campsite
Once you have found a campsite you like, it is a very good idea to book your campsite in advance to avoid disappointment. This is especially important during high season and the school holidays when campsites can get very busy. If you want to drive and tour around casually without committing to a particular site, it is perfectly possible to do so but during busy times you might well find many campsites are full.
You can book any campsite you find on our website by submitting the booking enquiry form at the bottom of their listing page.
Arrival and check in
When you book you will be given details of when you can arrive at your campsite and what to do when you get there. You can also double check this on the campsite's website or by emailing or phoning the owners.
Allow plenty of time to get to your campsite so you don't arrive late or worse in the dark. This is your first camping trip so give yourself lots of time to set up your camp.
When you get to your campsite you will need to go to reception to check in. Depending on the kind of site you have chosen, there might be an office at the entrance specifically for this purpose. At smaller sites you may need to drive up to the house and find the owner. The process will be made clear on the campsite's website and in your booking confirmation.
When you check in you will sort out payment for your stay. This varies from campsite to campsite: at some you will pay in advance, at others you will pay when you leave. The layout of the campsite will be explained to you and you may even be given a map. You will also be informed of the rules of the campsite, where you can camp and where the facilities are.
The process for finding a pitch will vary depending on the type and size of the campsite and how busy it is. Some campsites allow you to book specific pitches in advance. Some will allocate you a pitch when you get there (if you don't like it, be sure to ask to change).
At many they will send you off to look around and choose your own pitch. Some sites are highly organised and you will need to come back to tell them the exact pitch or area you have chosen. Others are very laid back and will let you camp where you want. You can read our guide to choosing the best camping pitch in the following section.
Whatever campsite you choose, the process will be straight forward and clearly explained to you. So you have nothing to worry about other than having a great holiday.