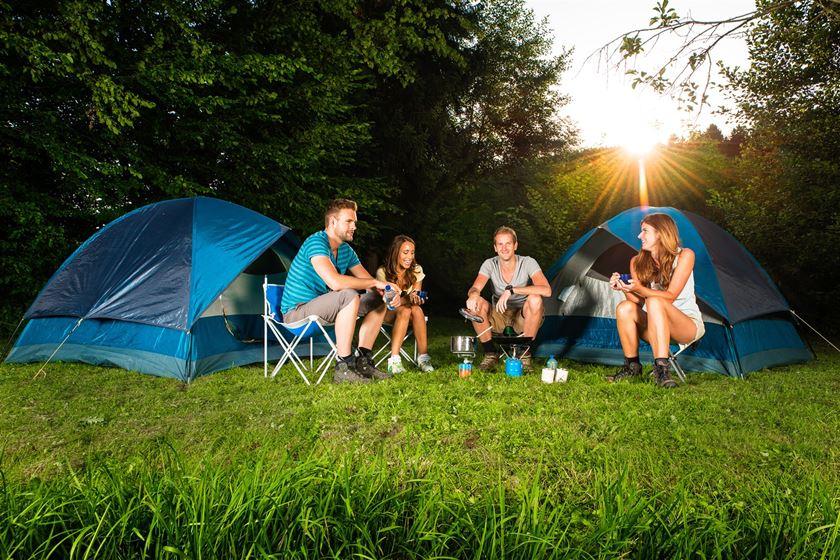 Why go camping?
Camping is a fantastic way to spend a holiday: it's fun, easy, and cheap and kids love it. Camping gets you into the outdoors, active and appreciating nature. You see the stars before you go to sleep and you wake up to the sound of birds. You can spend quality time enjoying the countryside, visiting local attractions with family or friends, meeting new people and chilling around a campfire with a beer.
Camping isn't for everyone, that much is true, but most people will really enjoy it if they give it a chance - and it definitely isn't as tough as you might think. Below we address some of the concerns you might have about going camping to help you decide if camping is right for you.
Busting the camping myths
Let's begin by addressing a few of the common concerns that put people off camping:
Camping doesn't have to mean roughing it - these days camping gear and equipment is advanced and there is no reason for you can't be very comfortable, clean and have all your essentials to hand when camping. Unless you want to rough it, that is still easy too. There are campsites available which offer as many or as few facilities as you like, including electric hook-ups, wifi, restaurants and hot showers.
Camping is not boring - the joy of camping is the change of pace from your hectic home life, but there is an absolute ton of things to do while camping. Getting active, exploring the landscape, visiting local towns and attractions, playing games and sports or just chilling out with a good book. Camping is what you make it.
You don't need lots of expensive equipment to go camping- even though there is so much awesome camping gear on the market, all you really need to get started is a tent, something to sleep on and in, something to cook on and a few utensil - much of which you can bring from home. In this guide we are going to talk you through what you need.
You don't have to be an 'outdoors person' to enjoy camping - camping is enjoyed by all kinds of people and you don't need to be a hardcore outdoors type to appreciate the fun of being in the countryside and breathing fresh air. There are many different ways to camp and things to do when camping and you can choose what suits you. And you might be surprised by how incredibly cosy, warm and comfortable a tent can be!
If you are considering going camping but think there might be too much to learn or that you won't know what to do, don't worry! Camping is actually very fun and easy and this guide is going to tell you everything you need to know.
Camping is cheap
Camping is still an excellent choice for a budget holiday. You can bring most of what you need from home and borrow or buy very cheaply what you don't have. Campsites start from just £6 a night, you can cook for yourselves and spend most of the day outside on the beach, playing games and enjoying the countryside. How else could you get a 2 week beach holiday for a family of 4 during the summer holidays for less than £250 all in?
Camping is easy
Becoming a camper is actually very easy. In this guide we will be covering a wide range of topics for reassurance, but seriously, all you need is tent, a sleeping bag, a sleeping mat, a stove and a few utensils and off you go. Today even super cheap camping equipment will keep you comfortable and dry in the warmer months. You can bring a lot of what you need from home too.
You might have heard a lot of camping jargon and technical conversations about tents and equipment, but don't let this put you off! People get really into camping gear because they love camping so much, and that is a good thing.
Camping is fun
The aim of camping is to have fun and leave the stress of your daily life behind. Wherever you want to go on holiday and whatever you want to do when you get there, there will be a campsite nearby. Camping is really convenient and the best thing is that you can bring everyone you want with you, even your pets.
You will learn lots of new skills while camping that you can share with your friends and family. Cooking even simple meals outdoors is really good fun.
You don't need the latest kit or know how to start a fire without a lighter to start camping, although you might find that these things start to interest you later! In the beginning, concentrate on the basics, relax and enjoy. Your first camping trip is a great learning experience.
Kids love camping
Kids absolutely love camping. They get to enjoy the freedom of the outdoors, they will meet other kids and make new friends on the campsite, and best of all they will learn some self-sufficiency and resilience. Camping is a great education for children and a brilliant fun holiday full of endless entertainment.
Get out into the Great British outdoors
The UK is full of incredible landscapes, from stunning mountains and beautiful beaches to rolling green hills and winding river valleys. Camping is a brilliant way to explore the Great British outdoors and enjoy nature at its best.
We hope you are now convinced and getting excited about going camping! There is no need to get overwhelmed when planning your first trip. In this guide we are going to cover everything you need to know (and more!) to make you first camping trip a brilliant success. Welcome to the wonderful world of camping!